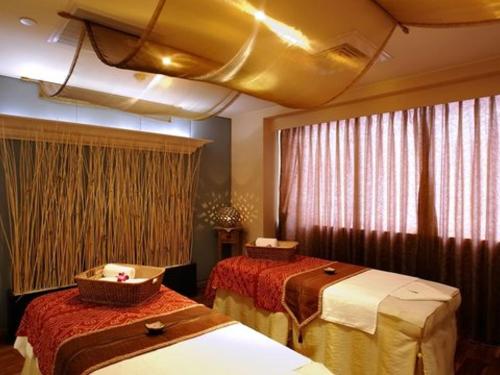 ABOUT CAESAR Spa
Composed of Chinese and Indian massage technique, make you completely relax in the flagrance and quietness of an urban forest. With the pleasure of relaxing breath, CAESAR Spa offers you the most joyful therapies.
Product
SUNDARI skin care products, favored by celebrities in Beverly Hills and being used in the world-renowned hotels such as the Burj Al Arab Hotel in Dubai and the Four Season Hotel, are also applied in the CAESAR Spa. The Vie ArOme pure natural skin care products and perfume oil from France, certified by ECO-CERT of the European Union, are also available for the CAESAR Spa. Not only this, 21 courses on health protection have been developed out of the French products. You may choose the most suitable courses for you depending on your physical mechanism and current health condition by using the modern testing equipment in place.
Treatment
In a private room filled with fragrant smelling and soft music, the CAESAR Spa will help to release your stress by using specially developed skills. Your body mechanism will also be adjusted simultaneously. A top spa experience you cannot miss out!
Course Introduction
Promotion